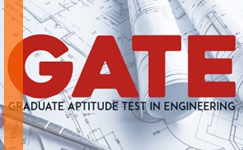 GATE Exam Pattern 2023 Know Marking Schame, Duration etc.
Get to know Gate 2023 Exam Pattern: Important Updates, Eligibility Criteria- GATE stands for Graduate Aptitude Test in Engineering is the most important examination for graduate or post-graduate aspirants. As per the set Gate 2023 Exam Pattern, it conducts the exams for 27 subjects and every applicant can apply for one or two subjects.
A candidate will need to attempt a total of 65 questions of 100 marks 3 hours duration. However, GATE conducts a Computer Based Test (CBT) in which the candidates will come across Numerical and Multiple Choice Questions (MCQs).
For answering the questions, they can make use of a virtual mouse and keyboard on the computer system. During the examination, every candidate will receive some blank sheets so that they can do their rough work.
Hence, if you're one of those users who're going to apply for the Gate 2023 exam, you should be aware of the eligibility criteria. Moreover, you must also have proper subject information along with the pattern of the Gate examination.
Those candidates who are willing to apply for the same should go through this blog post and have essential information. Here, you will come to know about the examination pattern and other additional details about the same.
Highlights of GATE 2023 Exam Pattern 
Mode of Examination
Computer-Based Test (Online)
Duration of Exam
3 Hours
Number of Papers in GATE 2023
29 Papers
Section
General Aptitude (GA)

Candidate Selected Subject

Type of Questions

Multiple Choice Questions (MCQs)
Multiple Select Questions (MSQs)
Numerical Answer Type (NAT) Questions

Design of Questions
The questions are designed to test the listed abilities

Application
Analysis
Comprehension
Recall
Synthesis

Number of Questions
65 Questions (including 10 questions from General Aptitude)
Distribution of Questions in all Papers except AR, CY, EY, GG, MA, PH and XL

Engineering Mathematics – 13 Marks
Subject Questions – 72 Marks
General Aptitude – 15 Marks

Distribution of Questions in AR, CY, EY, GG, MA, PH, XH and XL
Questions from Subject Concerned – 85 Marks

General Aptitude – 15 Marks

Total Marks
100 Marks
Marking Scheme of exam
All of the questions will be worth 1 or 2 marks
Negative Marking

Two types of MCQs:
MCQs – 1 mark for each correct answer; 1/3 mark will be deducted for every wrong answer.
MCQs – 2 marks for each correct answer; 2/3 marks will be deducted for every incorrect response. There are no negative marking for Numerical Answer Type (NAT) questions
NO negative marking for MSQ & NAT.
Essential Details for Gate 2020 Examination
The candidates will be able to download their admit cards from the Online Application Portal. It will start from 8th January 2023 effective.
GATE 2023 ExaminationDates:
5th February 2023
6th February 2023
7th February 2023
12th February 2023
13th February 2023
14th February 2023
Declaration of Result:
GATE 2023 Eligibility Criteria:
Are you looking forward to getting information about the eligibility criteria for the Gate examination? You are on the right page where you can find out proper details regarding the same.
Have A Look Below:
Those candidates who are looking for the entrance test must have the minimum qualification of the undergraduate course. Besides, if the aspirants are in the last year of graduation, they can also give the entrance test.
A few years back, contenders can apply for only one paper as per their subject interest. From last year onwards, they will be able to apply for 2 subjects/papers.
The best part is that there is no certain age limit when it comes to appearing in the GATE Exam.
Aspirants from different countries like Singapore, Ethiopia, Nepal, United Arab Emirates, and Bangladesh can also appear for the same exam.
Those Candidates who have cleared their Bachelor's Degree or completed their Post Graduation will also be eligible.
These are some important points to check if you are going to fill out the application for the Gate exam 2023. Besides, you should also keep in mind that some changes and modifications in eligibility criteria occur every year.
Understand Gate 2023 Exam Pattern and Format:
Exam Duration:
The duration of the examination will be of 3 hours (180 minutes).
Check out the Number of Subjects/Papers:
The total number of subjects is 27 that you can opt for one or two subjects/papers.
Have a Glance At the Number of Questions:
There are 65 numbers of questions that you have to attempt:
General Aptitude: 10 Questions
Engineering Mathematics: 55 Questions
Take a Look at Questions Type:
Multiple Choice Questions (MCQ)
Multiple Select Questions (MSQ)
Numerical Answer Type Questions(NATQ)
Get to Know the Number of Sections:
There are the following three sections you will come across when you are going to attempt for the GATE 2023 question paper.
General Aptitude (GA)
Engineering Mathematics.
Subject – Specific Selection.
Understand the Marking Scheme:
You will get an award of 1 mark if your answer to MCQ is correct. Besides, you will also be penalized a 1/3 mark for every wrong answer. On the other hand, when it comes to attempting Numerical Answer Type (NAT) Questions and Multiple Select Questions (MSQ), there is no negative marking.
How Do You Complete GATE 2023 Admission?
It starts with completing the application form when it comes to the GATE admission process. Below is a comprehensive guide on GATE 2023 Admission process:
On your very first step, you should register on the GOAPS website and then fill out the application form.
As per the availability, you can download GATE 2023 Admit Card once you complete the registration. However, the date of the examination will be confirmed by the exam conducting authority.
According to the subject chosen, you should check out the scheduled date as you have to appear for the same.
After a couple of days, it comes to the GATE 2023 Result declaration. An official exam conducting authority will declare the result on the official website. Here, the candidates can checkmarks and even normalise scores along with their rank.
GATE 2023 Answer Key:
GATE Answer Keys play a vital role and will be released after a few weeks after the examination ends. Those users who have given the examination will be able to check the official answer key on the official website. It can help the applicants to calculate their marks and also estimate their probable scores.
How Can Aspirants Check Out GATE 2023 Results?
Candidates who are going to appear in the Gate exam can check out their results. All they need to do is to consider logging into the GOAPS portal with their registered credentials. When it comes to accessing the scorecard, only aspirants will be eligible. Following are necessary instructions along with steps to check out the Gate results:
First of all, you will have to visit the official website either on your computer system or mobile device.
In the next step, you should simply navigate through the results page where you have to click on GATE Result.
Once you click on it, you will come across a GOAPS portal on your mobile or computer screen.
Hereafter, you should simply enter the login details and then click on the 'Submit' tab.
On the next screen, a GOAPS candidate dashboard will take place where you can tap on the results section.
Now, you will come to see your GATE result on your mobile or computer device with optimum ease.
Why One Should Try Attempting The GATE 2023Examination?
It opens the doors to several prestigious post-graduate programs after qualifying GATE examination. In addition to this, GATE scores will also assist in opting for the PSUs and get you lucrative engineering-related jobs.
On the other hand, those candidates who have successfully qualified for the GATE examination will be eligible for different fellowships by notorious research centers.
The GATE Exam score will be beneficial if the candidates willingly want to take admission in renowned foreign universities.
GATE score can also put forward several opportunities to apply for prestigious occupations in Central Government Firms, PSUs, and other Private organizations.
Have A Glance at What's New In GATE Exam 2023?
Exam notification along with Gate 2023 Exam Patterns is yet to be out. However, official statements are still pending and there is no update regarding the same. Besides, those candidates who are looking forward to checking out the new things for the GATE examination can refer to the guide below:
Two New Subjects:
As per the new updates, candidates can choose two new subjects. Marine Engineering (combined) and Geometrics Engineering and Naval Architecture have been introduced. Since its inception, the total number of subjects will be 29 for GATE 2023.
More Centers For The Examination:
There will be a hike in exam centers according to the official updates. With the introduction of several new examination centers, the candidates can find it convenient to appear for the examination.
Relaxed Criteria To Be Eligible For GATE 2023:
A minimum 10+2+4 (previous)
A minimum of 10+2+3 (ongoing)
The GATE mark will be able valid for the next three years after the result declaration.
Appear For Two Subjects/Papers:
The candidates who have applied for the GATE can appear for two subject papers. It can be done from the prescribed combination set.
Conclusion:
By referring to this guide, you will come to know several essential points of the GATE Exam 2023. Moreover, you will also come across Gate 2023 Exam Pattern along with other details with optimum ease. In case of any queries and concerns with the same, you can go through the details above.