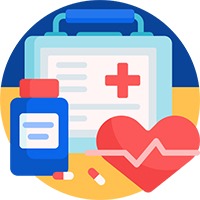 Top 5 Medical Career Options after 12th You Must Know
Confused and fed up with the number of career options you have right after completing your 12th standard? Well, it is no secret that most students nowadays have to cope with the dilemma of what career option to choose after 12th completion. Things get a bit more strained when you have a PCB stream in 12th standard. Biology stream students are not much aware of the career options that are available to them in today's time. When everyone is running after MBBS and clearing NEET, there is also a vast number of students who want to know about more medical career options apart from MBBS. Here we bring to you the top 5 medical career options after 12th that will help you make a difference in your career.
Top 5 medical career options after 12th 2023
Right after the doctors come the diligent and hard-working nurses. This 4-year long medical career option is great for you if you want a more hands-on and practical approach to your work. Learning and applying medicine is done best when you choose nursing as your career.
#2 BPT.
Bachelor of Physiotherapy is another lucrative field for medical aspirants who want an edge over the rehabilitation aspects and want to work in a field where exercise and physiotherapy play an important role. Again, this medical career option needs more of a practical mettle than a theoretical one.
#3 BSc.
Medical Laboratory Technician: Assisting doctors and nurses are the Medical lab technicians. They are like the backbone of the whole medical structure because they curate reports and form the foundation of medical diagnostics. It is a 3 years long course with plenty of job opportunities in the medical industry.
Bachelor of Pharmacy is a 4-year long course that teaches you the chemistry and biochemistry of medicines. You can become a druggist, a researcher, or a professor along with an array of other bright designations after this course.
#5 BOT.
Bachelor of occupational therapy is a 4 to a 5-year-long course that enables you to deal with and teach life skills to mentally or physically challenged individuals. This noble profession not only gives you the opportunity to become a teacher and therapist, but you can also pursue higher education in the field and become a researcher.
Found the best medical career option for yourself yet? No worries if you haven't. These are the top 5 career options students opt for after NEET, but there is an array of courses available for your unique interests that can help you have an excellent career ahead.  Other medical career options available are:
Bachelors of Optometry
Bachelors of Unani medicine
Bachelors of Homeopathic medicine
Bachelors of Ayurvedic medicine
Bachelors of Veterinary medicine
All the best for your career path ahead!