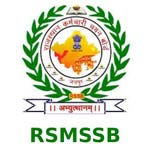 RSMSSB JE Syllabus 2023 [Check Exam Pattern]
RSMSSB JE Syllabus 2023 has been listed on this blog. Students who have applied for this exam and are eager to learn How to Prepare for Rajasthan JE Exam 2023 can download the RSMSSB Junior Engineer Detailed Syllabus PDF 2023 and get comprehensive information to crack the examination.
Also, one needs to follow the RSMSSB Jr. Engineer Exam Pattern/SSelection Process 2023 from this section which will lead you to know detailed information about the marking scheme, the number of questions, and many more. So follow the RSMSSB JE Exam Important Tips 2023 and proper strategy for preparing for RSMSSB Junior Engineer 2023 here.
Highlights!
| | |
| --- | --- |
| Exam Name | Rajasthan Subordinate and Ministerial Services Selection Board Junior Engineer Exam |
| Conducting by | Rajasthan Subordinate and Ministerial Services Selection Board |
| Exam Level | State-Level |
| Exam Frequency | Annually |
| Exam Pattern | Written Exam |
| Exam Fees | INR 450 (OBC/UR/MBC/EWS) INR 35 (Rajasthan OBC NCL or MBC) INR 250 (ST/SC/PH) |
| Mode of Examination | Offline |
| Exam Duration | 2 Hours |
| Language | Hindi and English |
| Exam Helpdesk No. | 9352323625/7340557555 |
| Official Website | https://rsmssb.rajasthan.gov.in/page?menuName=Home |
RSMSSB JE Syllabus 2023
Part A:- General Knowledge
Major dynasties and their accomplishments.
Mughal-Rajput relations.
Key features of the architecture.
Important Forts, Monuments & Structures.
Religious Movement of Rajasthan and Folk God-goddess.
Principal Prehistoric civilizations of Rajasthan.
Rajasthani language for literature Major regional languages.
Fair, festival, folk music, folk dance, musical instruments, jewellery.
Princely states of Rajasthan and British treaties, Mass movement of 1857
Farmers and public Revolution movement, and the movement Prjamandal.
Main Handicraft, painting, styles of Rajasthan.
History, Art and Culture of Rajasthan, Tradition, Heritage and Geography of Rajasthan –
Primary Source of Rajasthan History
Integral of Rajasthan.
Political Awareness of Rajasthan.
Rajasthani Culture, Tradition and Heritage.
Important Historic Tourism Palace.
Main Personality of Rajasthan.
Part B: Geography of Rajasthan-
Soil.
Climate.
Natural vegetation.
Forest and Wildlife Conservation.
Status and Expansion.
Main Physic Department – Desert region, Aravali Mountain region, planes.
Drainage system.
Environmental and ecological issues.
Desertification.
Agro-climatic and significant crops.
water conservation
Transportation.
Minerals.
Livestock.
Multipurpose projects.
Irrigation Projects.
RSMSSB Junior Engineer Civil/Mechanical/Electrical Syllabus 2023:
RSMSSB Junior Engineer Civil Syllabus 2023:

Surveying
Building Materials, Estimating
Costing and Valuation
Transportation Engineering
Environmental Engineering
Soil Mechanics
Hydraulics
Irrigation Engineering

RSMSSB Junior Engineer Mechanical Syllabus 2023:

Fluid Mechanics
Fluid Machine
Design of Machine Components
Kinematic & Dynamics of Machines
Turbomachines
Auto Cad-Mechanical Engineering drawings
Thermo Dynamics
Heat Transfer
Mechanics of Solid
Machine Drawings

RSMSSB Junior Engineer Electrical Syllabus 2023:

Control systems
Analytical instrumentation
Power Systems
Digital Signal Processing
Computer Control of Processes, Networks
Power Electronics and Drives
Electrical machines
Electrical Circuits and Fields
Measurements, Instrumentation, and Transducers
Industrial Instrumentation
Digital Electronics
Communication Engineering
RSMSSB Junior Engineer 2023 Exam Pattern
To get a better and more comprehensive understanding of the upcoming exam, the exam pattern can be an excellent option for them. By analyzing the complete exam pattern, one can quickly know the question details, marks, subject-wise exam duration information, and much more.
So we would like to suggest that if you are going to take the exam, then you should follow its exam pattern from the below section.
Section

Subject

No. of Questions

Marks

Exam Duration

Part A
General Knowledge of Rajasthan
40
40
2 Hours
Part B
Concerned Subjects
80
80
Total
120
120
Basic Guideline!
RSMSSB exam will be a written objective type test.
It will have 2 separate parts.
Part A will be General Knowledge of Rajasthan and Part B will be related subjects like; Civil, Mechanical and Electrical.
With 120 questions, Part A will have 40 questions, and Part B will have 80 questions.
Each question will be of 1 mark in the exam.
There will be negative markings in the exam.
The minimum qualifying marks will be 40% of the total marks.
Candidates will also have to obtain the required cut-off marks. Only those candidates will be selected for the DV process.
The exam will be for 2 hours.
Official Website– https://www.rsmssb.rajasthan.gov.in
FAQs!
How many questions will be asked in RSMSSB Junior Engineer Exam?
The question paper will consist of 120 questions for 120 marks as per the following syllabus.
What are the minimum qualifying marks for RSMSSB JE Exam 2023?
The minimum qualifying mark will be 40%.
What is the RSMSSB JE Civil, Mechanical, and Electrical Trade Syllabus for the written exam?
Above we have shown the RSMSSB Junior Engineer (Civil, Mechanical, Electrical) Trade Written Exam Syllabus, so we need to follow from here.
How can I get RSMSSB Junior Engineer Exam Syllabus?
One can also follow its official website, where all the details regarding RSMSSB JE Exam are available,
Is there any negative marking in RSMSSB Junior Engineer Written Exam?
Please wait for the official update…
What is the Selection Process for RSMSSB Junior Engineer Recruitment?
– Written exam
– Document verification
When will the RSMSSB Junior Engineer (JE) writing exam start?
RSMSSB JE written exam will be conducted soon. The official exam date will be released on the official website.