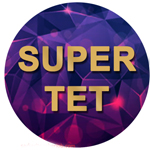 SUPER TET 2023: Notification, Recruitment, Syllabus Etc.
Uttar Pradesh Basic Education Board, popularly known as UPBEB, will conduct the SUPER TET Exam 2023 for candidates waiting for the posts of teachers at primary and secondary levels in schools of government and private schools. This exam is conducted for the recruitment of teachers in UP State.
So those who are willing to be a part of the Super TET 2023 Exam must read its notification and recruitment process and prepare with Syllabus and exam pattern. It can be an excellent option to get good marks in the exam.
Before participating in this exam and filling out its notification, one must check the eligibility criteria and other important details we have included on this page. So read this blog entirely and get complete information in one go.
<<<Read>>UPTET Exam 2023 Download Uttar Pradesh TET Admit Card
SUPER TET Recruitment 2023

Highlights!
Name of exam
Super Teacher Eligibility Test
Popular Name
SUPER TET
Conducted by
Uttar Pradesh Basic Education Board (UPBEB)
Starting date of Online Super TET form
January 2023(Tentative)
Date of Super TET Exam 2023
February 2023(Tentative)
Mode of Application
Online Mode
Application Fees

General: 700 INR to 900 INR
OBC: 700 INR to 900 INR
SC/ST: 500 INR to 700 INR

Mode of Exam
Offline Mode
Language of Exam
English and Hindi
Official Website
updeled.gov.in
SUPER TET Vacancy 2023
More than 1,894 vacancies are available for Super TET candidates. Out of the total, 1,504 vacancies are available for the post of Assistant Teacher, and 390 posts are available for Headmaster or Principal, as given below.
Assistant Teacher- 1,504 vacancies
Headmaster or Principal- 390 vacancies
SUPER TET 2023 Eligibility Criteria
Super Teacher Eligibility Test, popularly known as Super TET, is conducted annually by the Uttar Pradesh Basic Education Board (UPBEB) for candidates willing to be part of teachers at primary and secondary levels in government-recognized schools across the state. Candidates who qualify for the exam are eligible for the teaching posts in UP then will be part of this exam.
The minimum education qualification is required for graduation for Assistant Teacher posts
For the post of Principal, one should have a minimum of 5 years of experience, and he/she should have a graduate certificate.
SUPER TET Eligibility Criteria 2023
Secondary School and a 2-year Diploma in Elementary Education (by whatever name known).
Bachelor's Degree in Education and Graduation (or equivalent) with at least 50% marks (B.Ed).
El.Ed/BTC from UP Govt Institute.
Graduation with at least a 50% grade point average and 1-year B.Ed (Special Education)
4 years BA/B.Sc. Ed or BA.Ed/B.Sc. Ed.
Bachelor of Elementary Education (B.Ed.)
4-Year Program (B.El.Ed) and Second Paper (Class 6-8) TET Qualified with 5 Years of Teaching Experience from Junior High School and High Basic School Recognized by the Department of Basic Education.
SUPER TET Age limit 2023
Those who wish to be part of this examination should possess the following Age Criteria to apply for this examination.
Minimum age: 21 years
Maximum age: 40 years
SUPER TET Age Relaxation:
| | |
| --- | --- |
| Candidate's Category | Upper Age Limit |
| SC/ST | 5 years |
| OBC | 3 years |
| PWD | 10 Years |
Super TET 2023 Exam Pattern
Preparing according to the exam pattern is one of the critical success points to crack your upcoming exam.
So if you are going to be a part of the Super TET 2023 exam, you must follow this section where we have presented complete information for the upcoming exam, including its subject information, maximum marks, marking scheme, etc.
Let us draw your attention to this section. And start your preparation accordingly.
| | |
| --- | --- |
| Subjects  Information | Maximum marks |
| Language – Hindi, English, Sanskrit | 40 |
| Mathematics | 20 |
| Science | 10 |
| Environment and Social Study | 10 |
| Teaching Methodology | 10 |
| Child Psychologist | 10 |
| General Knowledge / Current Affairs | 30 |
| Logical Knowledge | 05 |
| Information Technology | 05 |
| Life Skills / Management and Aptitude | 10 |
| Total | 150 marks |
Basic Guidelines
Applicants must clear Super TET 2023 with minimum marks; only CTET/UPTET-qualified candidates can appear in this exam.
Certificates for the same will be provided to qualified candidates.
The duration of the Super TET exam is 2.5 hours.
The question paper of this exam will be 150 questions of 1 mark in total.
There will be no negative marking for Super TET 2023.
SUPER TET 2023 Syllabus
The SUPER TET 2023 Syllabus has been designed to ensure that candidates are well-versed in the topics covered under each subject. The syllabus is reviewed and finalized for the upcoming examination. Candidates can use the syllabus as a study guide to ensure they are well-prepared for the examinations.
Find a comprehensive list of subjects from the table below that will be taught throughout the course and the topics covered under each subject. Candidates must be familiar with the subjects and topics covered under each subject.
Subject
Topics
General English

Direct and Indirect Speech.
Punctuation and Spelling.
Words Meanings.
Vocabulary & usage.
Active Voice and Passive Voice.
Parts of Speech.
Transformation of Sentences.
Idioms and Phrases.
Fill in the Blanks.

Science

Daily life includes science
Speed force
Energy
distant light
Sound
World of creatures
Human body
Health
Hygiene and nutrition
Environment & natural resources
Stages of matter and substance

General Knowledge

International & National Events
Important events related to the state
Location personality compositions
Important Current Occupations
Current Affairs
International and national award-sports
Culture and art

General Hindi

रस,
संधियां,
तद्भव तत्सम,
लोकोक्तियाँ,
मुहावरे,
अलंकार, समास,
विलोम,
पर्यायवाची,
वाक्यांशों के लिए एक शब्द,
अनेकार्थी शब्द वाक्य संशोधन -लिंग, वचन, कारक, काल, वर्तनी, त्रुटि से सम्बंधित
<<<Must Read>>>UP Assistant Teacher Syllabus 2023 Super TET Written Exam Pattern
SUPER TET Recruitment Exam Date 2023
Here in this section, we have furnished entire information about SUPER TET 2023 Exam Dates, so if you are one of those who are willing to participate in this examination but are not well aware of its dates, then you must follow this section thoroughly and grab the entire information.
| | |
| --- | --- |
| Events | Super TET Exam Dates |
| Starting for online applications | February 2023 |
| Deadline for online application | March 2023 |
| Deadline to pay the application fee | March 2023 |
| Release of admit cards | March 2023 |
| Exam date | April 2023 |
| Admit Card Date | April 2023 |
| Release of final answer key | Last March 2023 |
| Result declaration | May 2023 |
FAQs!
Who are eligible for Super TET?
Those who acquired Bachelor's degree in education and graduated (or equivalent) with at least 50% marks (B. Ed) are eligible to be part of this exam.
What is the difference between TET and Super TET?
There is a huge difference between the exams; the main difference is the recruitment location after you clear the exam.
Is Super TET tough?
It all depends on your preparation and how you prepare for the exam. If you prepare well by its exam pattern and syllabus with proper guidelines, you can easily crack this exam, but if you do not follow all these strategies, these won't help you in the right way.
Is Super TET is written exam?
Yes, Super TET Exam 2023 is one of the pens and paper-based examinations that comprise Objective Type Questions.
Is Super TET compulsory after UPTET?
Yes, the Super TET exam 2023 is compulsory for teaching jobs in Government and Private classes 1 to class 8.
Does Super TET hold every year?
Yes, Super TET Exam is organized every year in offline mode.
What is the benefit of Super TET?
SUPER TET is one of the teaching exams conducted at the state level to recruit eligible candidates for the teaching profession at primary and secondary stages for government and private schools.